BRONWYN'S SPEAKEASY
by Stu Hamstra
            What I love most about cabaret - the ultimate live entertainment medium - is the unexpected. Unlike Broadway shows - which are scripted, timed, computerized and triply rehearsed - a cabaret show most often "goes with the flow." For the truly great cabaret performers, no two performances are exactly alike. Each performance is sculpted to be most suitable to the audience at hand. But there is an additional "unexpected quality" to cabaret: the unexpected nearly perfect match of performer to material.
            Both of these forms of the unexpected came together last week and resulted in one of the most exciting, entertaining and informative shows I've ever seen. Steeped in American cabaret history, Bronwyn Rucker's show "Bronwyn's Speakeasy ... Shhhh ...", which I saw on Monday night, October 27th at 7:00 at DON'T TELL MAMA, completely and forever changed many of my misconceptions of the roots of cabaret in America. For some strange reason I had been led to believe that there was no real cabaret in NYC until the arrival of the German and French expatriates just prior to the Nazi domination in Europe. But, I was startled to learn, cabaret was thriving in the US - and especially in NYC - many years before Brecht and Brell. We're talking of the "speakeasy era" of the 20s and 30s - the back rooms, the rooftops and the cellars - where the "night crawlers" fled to with the onset of Prohibition. With the sale of alcohol prohibited, folks who wanted to drink had to go to the speakeasy - and thousands of these "Joe Sent Me" establishments sprang up and flourished everywhere. And along with it sprang a whole new form of entertainment, combining burlesque and vocal performance - cabaret! A new style of entertainer was born as well - such folks as Libby Holman, Billie Holiday, Ruth Etting and Blanche Yorka.
            Ms. Rucker has a performance style so suited to depicting the performers of this era, one is thrown back in time as she sings oldie after oldie, interspersed with anecdotes of the gals who made the songs famous. Many tunes that later found their way into films and Broadway shows had their birth in these hide-away places - "Sophisticated Lady", "Melancholy Baby", "Red Red Robin", "Willow Weep for Me" - and many, many more. With "Tin Pan Alley" just around the corner or down the block from these dens of the night, new songs moved from pen to performance in just hours.
            Ms. Rucker - a modern day Bea Lillie - sang and swirled her way through song and story after song and story, at times almost breathless with her eagerness to entertain us. A brilliant pink chiffon scarf around her shoulders gave the show an amazing aura of excitement and decadence. Saadi Zain on bass and Jerry Scott at the piano, each performing with a slight tone of jauntiness befitting the era, lent their talents to give the show just the right "speakeasy" sound. The show was exquisitely directed by the award-winning Jay Rogers.
            The show was written by Bronwyn Rucker along with legendary television and radio talk show host, Joe Franklin, who has encyclopedic knowledge of the era. Mr. Franklin, seated at the front of the audience, was called upon several times to add a tidbit of information about the era. Tammany Hall and Jimmy Walker, who served as perfect representations of the period, were mentioned prominently. And the new, brick-walled cabaret room, hidden at the back of the piano bar, clearly was built for such a show as this.
            I could go on, but mere words cannot express the specialness of this show: for a cabaret-lover like myself it had a special meaning. Special and more so because, while I doubt either of my parents ever entered a speakeasy in their lives, when I was a kid, the sheet music of many of these songs found their way into the piano bench in our living room to be taken out and sung at family gatherings (remember when just about every home had a piano in the living room?).
            This show not only cries out for additional performances, it should be on the "must see" list of every cabaret fan if it does reappear.
                                                         BRONWYN'S SPEAKEASY
                                                         CD Available at
http://cdbaby.com/cd/bronwynrucker


Theater Review

Bronwyn Rucker, Collaborating With Joe Franklin, Pays Tribute to An Era
By Harold Egeln
Brooklyn Daily Eagle
    "When the red, red robin comes bob, bob, bobbin' along" had the audience singing along in the spirit of female singers of the 1920s and 1930s who made their mark in speakeasies, as cabaret star Bronwyn Rucker brought back that era in her latest show. Her nearly two-hour-long uplifting performance to a packed house was aglow with heart-filled vibrancy, joy, passion, humor, pathos and show-biz history.
    The venue for her tenderly charming and elan-charged engaging tribute show "Speakeasy...Shhhhh..." in collaboration with the legendary Joe Franklin, was Don't Tell Mama on Manhattan's Restaurant Row. The show was directed by the award-winning Jay Rogers.
    "She's another Rosemary Clooney," said Franklin, who wrote the show's book with Ms. Rucker, who hails from Brooklyn. Franklin, whose long era on television and radio stretched from around 1950 into this new century, personally knew some of the era's singers and had them as guests on his TV program.
    Evoking Helen Morgan, Billie Holiday, Sophie Tucker and Kate Smith, among other well-known and lesser-known singers, Bronwyn made each come alive again with the songs they sang during the wild Prohibition era, ending with the speakeasies' demise during the Great Depression in 1933.
    "What was the password phrase used to get into a speakeasy?" asked Bronwyn, looking at Joe Franklin, who replied smiling, "Joe sent me." (Editor's note –one could also say "swordfish," the password used in the 1929 Marx Brothers movie "The Coconuts.") And the audience then entered through the door into the past with Bronwyn as their guide, with her gift of storytelling and singing in the style of the singers she described and the texture of their lives.
    Making the speakeasy years all the more real were Jerry Scott on piano and Saadi Zain on bass in the intimate red brick backroom. Scott would add his own often spontaneous and sometimes funny commentary, adding to the close-to-the-heart, touch-the-audience talent that is a hallmark of Bronwyn's performances.
    "When the 18th Amendment went into effect in 1920, speakeasies opened and thrived out of sight of the law," she said.
    The speakeasy singers sang many popular songs that originated in a variety of Broadway venues, Ms. Rucker noted, which included musicals, "follies" and "gaieties." She began her show with Lorenz Hart and Richard Rogers' "Manhattan" from the 1925 musical "Garrick Gaieties."
    Bronwyn's show repertoire also included favorites such as "I'll Get By," "Mood Indigo" and Blue Skies" and lesser-known songs such as "Poor Butterfly" and "Honey Bunch." When she sang "Tea for Two," I noticed Franklin tapping his fingers on the table, like dancers. When she ended her show with Irving Berlin's "God Bless America" she made Kate Smith, who made the song her anthem in the late 1930s, come alive again.
    In the audience was Michael Block, son of radio pioneer Martin Block of "Make Believe Ballroom" fame, who was obviously thrilled with the performance, seated next to Franklin and jazz legend Ray Rivera.
    Bronwyn, a Brooklyn resident, has produced several CD recordings including "Bright Blue" from 2004, produced by Rick Russo and Brian Gari, a noted songwriter who is Eddie Cantor's grandson, with liner notes by Joe Franklin; and "Radon Daughters – A Radioactive Musical" written with Woody Regan, her long-time collaborator, on Original Cast Records.
    Of "Bright Blue," Franklin says in the CD's liner notes: "When you listen to Bronwyn, you feel she is touch with her childhood memories. She evokes heartbreak and loneliness with a vocal artistry that, believe it or not, uplifts us rather than letting us feel heavy." Her 21 songs include "Dream a Little Dream of Me," "Pennies From Heaven" and "Stardust."
    Two new CDs are now in production, one with famed jazz masters Billy Taylor and Ray Rivera, and the other titled "Speakeasy," which features songs and segues from her new show. In the early 1980s, Bronwyn was at the forefront of solo woman performance artists with her autobiographical "Subway Named Desire." She has appeared in movies with Mickey Rooney and Scott Baio and several soap operas in additional to theater productions in local and regional tours.
    Bronwyn Rucker will give an encore performance of her new show on Monday, Oct. 27 at 7 p.m. Don't Tell Mama is located at 343 West 46th St. between Eighth and Ninth avenues. For reservations, call (212) 757-0788
A very nice note from the legendary Julie Wilson, who attended the
closing show of Bronwyn's Speakeasy run in 2008 at Don't Tell Mama.
Ms. Wilson is also quoted in the Speakeasy CD.


 DEMETRIA DANIELS'
GOTHAM GOSSIP



BRONWYN'S SPEAKEASY at the METROPOLITAN ROOM
March 5, 2010

    Bronwyn Rucker delivered a dynamite performance of America in song as part of the 'March is Cabaret Month' celebration at the Metropolitan Room in Chelsea.  Her program, Bronwyn's Speakeasy, outlined the historical musical overview of the speakeasy era, combining singing, dancing and comedy with exuberance and enthusiasm.  Like an explosive firecracker, her energy filled the stage and room, thoroughly engaging the audience and waking its spirit.
    Her beautiful, perfect and sometimes operatic voice transfixes us into the melodies of the past -- the 1920's and 30's -– in the tradition of Jeanette MacDonald.  She sang the greats -– Mean to Me, a Billie Holiday song, Duke Ellington's Mood Indigo, and a rousing rendition of Irving Berlin's God Bless America, plus more than a dozen others.  Her voice echoed the trombone in the Purple Flame.
    When illegal speakeasies flourished during the prohibition, entertainment still endured at venues such as the 300 Club on West 54th Street, where illegal liquor flowed.  Bread lines were outside.  Fanny Brice sang.  And with the "New Deal" came a cornucopia of melodies –- and the jazz age arose.  Sophie Tucker sang at the Cotton Club and Café Society evolved.  Bronwyn's Speakeasy gives us a history lesson in song.  Joining Bronwyn Rucker were two marvelous musicians, both mainstays of Manhattan's cabaret and jazz scene – Jerry Scott at the piano, and Saadi Zain, on bass.
    Joe Franklin, the king of memory lane, is Bronwyn's "creative consultant" on the show and also contributed historical, often hysterical, tidbits of information as part of the performance.  He later stated, "Bronwyn fills my ears with joy, transplanting me with memories of cabaret's birth and growth...I am mesmerized by her performance of those wonderful old-time melodies."  So was the resoundingly responsive packed house.  Her show is a must-see New York experience!



THEATER REVIEW

BRONWYN RUCKER GIVES SPEAKEASY SINGERS NEW LIFE                             
Entertains With Joe Franklin in 1920s and '30s 'Memory Lane'   
                             
By Harold Egeln - Brooklyn Daily Eagle 
May 28, 2010


    It was a magical, musical trip down "memory lane" thanks to cabaret star Bronwyn Rucker, who recently entertained at a live show celebrating her exciting new CD release Bronwyn's Speakeasy that got rave reviews from Brooklyn fans.
    "What was the password that got you inside a speakeasy?" Bronwyn asked pioneering television talk-show host Joe Franklin. "Joe sent me," he replied at the sold-out show recently at the Metropolitan Room off Fifth Avenue in Manhattan.
    Franklin, the entertainment industry living legend, is famed for hosting his "Memory Lane" TV and radio programs for 60 years and is credited as creating the television talk show genre. Bronwyn, also an actor and playwright, collaborated with the "Nostalgia King" on the thoroughly entertaining CD celebrating women singers of the 1920s and 1930s.
    It was written and produced at Millrose Music with art direction by Joe Bly and associate producer Brian Gari, grandson of the great Eddie Cantor. The stage production was wonderfully directed by the award-winning Jay Rogers.
    "With the passage of the 18th Amendment bringing prohibition on January 26, 1920, overnight a society of illegal speakeasies was born, an era that lasted until early 1933," Franklin noted. Bronwyn then added, "So many of the people whom I explored got their start in those years at speakeasies."
    Bronwyn performed all aglow with heartfelt exuberance, passion, humor and pathos, tenderness and intensity in recreating performances with her own unique singing voice that propelled the audience through a singing time machine into a long-gone era when stars were born.
    Adding to the joy and energy of the evening were Jerry Scott on piano and Saadi Zain on bass, wonderfully framing Bronwyn's music with the close-to-the-heart hallmark talent that her audiences love, bringing them back and making fans of new ones.
    "It was an amazing performance!" said Kenneth Adams, the former Brooklyn Chamber of Commerce president who is now head of the statewide Business Council. "She made the singers all come alive as she sang a history lesson in a very entertaining way. Her knowledge of the era is fabulous."
    Martin McQuade, a consultant to Bing Crosby Enterprises and a pop singer, attended the show and remarked, "Brownyn, so evocative of the gilded age of American entertainment, took this veteran of American songs on a voyage to songs he didn't even know. Her musical history lesson expanded my musical knowledge and her deliciously unique sound had me craving for more from this wonderful chanteuse. She infuses the evening with elegance. And who could ask for anything more?"
    With a performance style savored by fans, Bronwyn wistfully sang "Melancholy Baby" by Ruth Etting, once called "American's sweetheart," and then went on to sing the bouncing happy song "Red, Red Robin" as sung by Lillian Roth in Earl Carroll's Vanities.
    The happy song "Honey Bunch" as sung by vaudevillian Jane Green was followed by the sad but hopeful determinism of "I'll Get By" as sung by café singer Aileen Stanley. With each song Bronwyn told the singers' stories, evoking their styles, such as Billie Holiday in "Sophisticated Lady" with Holiday's cadence and longing tone.
    The bohemian nightclub life in Harlem and Greenwich Village was the backdrop for several of the singers. Franklin later noted. "Who better than Bronwyn to sing these tunes?"
    Bronwyn, a Brooklyn resident, has several CD recordings. They include Bright Blue from 2004 and Radon Daughters – A Radioactive Musical written with Woody Regan, her long time collaborator on Original Cast Records. Brownyn's Speakeasy is the latest release on the OC label, and all her albums are available at J&R Music on Park Row.
    Bronwyn was a pioneer in the forefront of solo woman performance artists with her autobiographical "Subway Named Desire" revue which was a regular at The Duplex, Eighty Eights and Don't Tell Mama (where this reporter saw an earlier version of "Speakeasy"), as well as the Manhattan Punch Line Theatre.
It was the 1920's all over again as Bronwyn Rucker electrified the Laurie Beechman Theater...
Songs and historical information of the era such as Lillian Roth, Ruth Etting, Libby Holman and Helen Morgan...
Charming anecdotes added by the lovable Joe Franklin highlighted the performance...
Bronwyn's emotion-filled vocals ran the gamut from happy to sad with a power punch! 
                                                                                                                   -- Henry Dee



...joining the audience for "Red, Red Robin"


with Saadi Zain for "Mood Indigo"...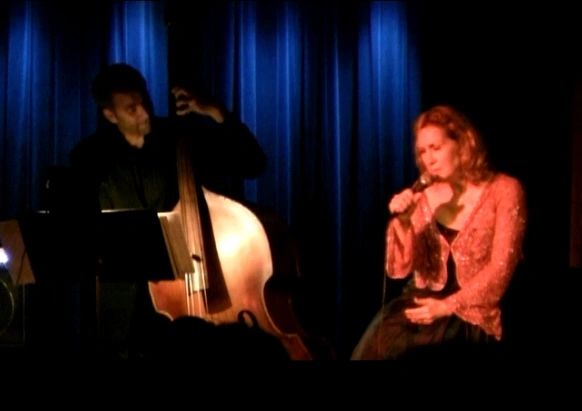 Autumn in New York...Why does it seem so inviting...?
The answer is simple. 
Bronwyn Rucker just performed her Speakeasy show in the theater district
and honored with distinctive charm and gusto the
night club greats - and near greats - who dominated that very area in the halcyon days. 
Bronwyn's sound is a unique mixture of wry sophistication and nostalgic innocence,
which completely captivated this ardent fan. 
It is not often that one can say that they were amply educated as well as
thoroughly entertained at a cabaret show, but this was true of
The Bronwyn Experience that magical Sunday night. 
I'm left with just one more word to say:  Encore!

-- Martin McQuade
Mr. McQuade, a pop singer, is also consultant to Bing Crosby Enterprises.
His liner notes appear in the recent series of Bing Crosby releases on Collectors' Choice Music.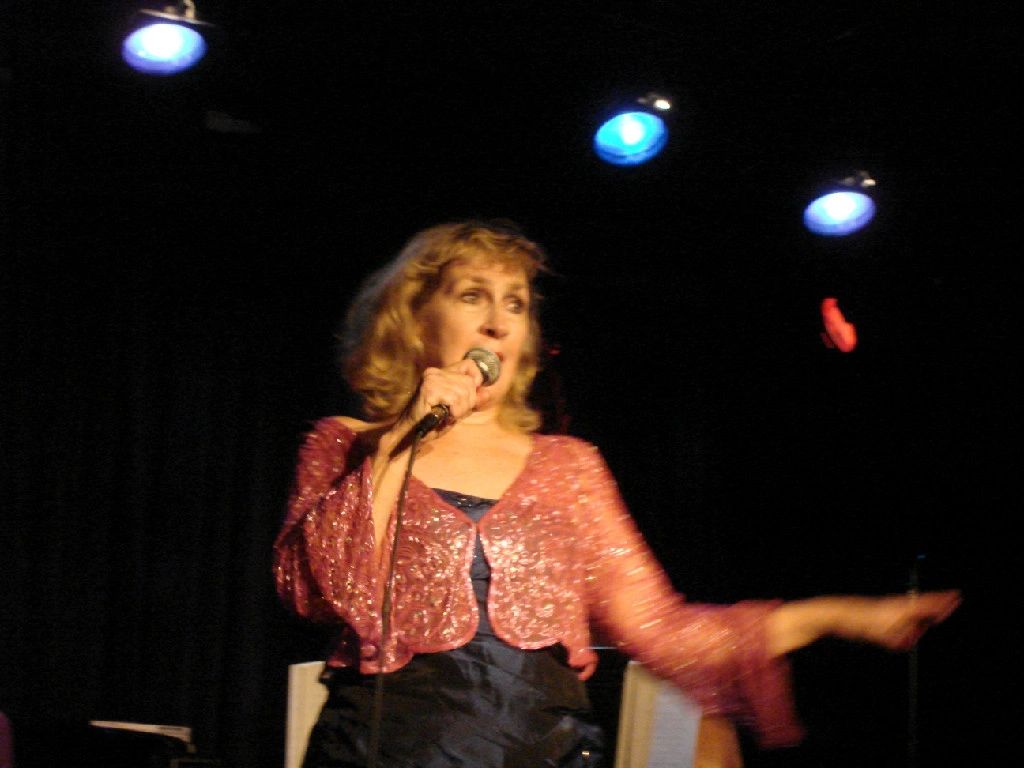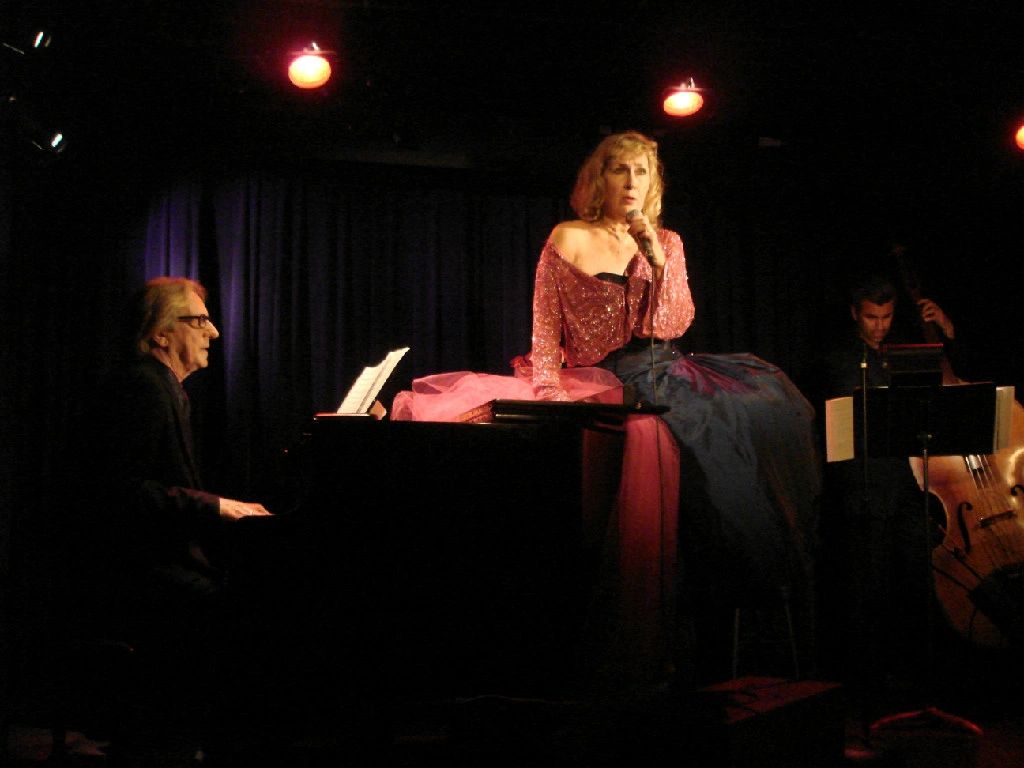 With Jerry Scott and Saadi Zain
..."Mean to Me"...




"Poor Butterfly"