"Bronwyn Rucker raises her annual holiday ruckus!"
-- Time Out Magazine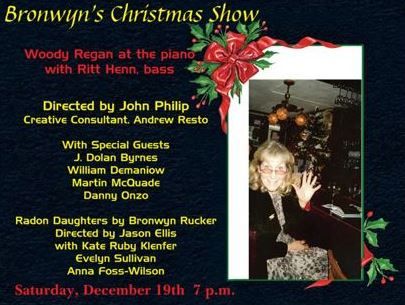 Bronwyn's 2015 Christmas Show


Miracle On 46th Street

By Martin McQuade

Catch a falling star an' put it in your pocket - Never let it fade away...

Catch a falling star an' put it in your pocket - Save it for a rainy day...

With this song, the endearing and enduring cabaret presence Bronwyn Rucker captured the mood of her annual Yuletide songfest at Don't Tell Mama in Manhattan's Restaurant Row. The stardust was abundantly sprinkled all over the cozy room, made even more intimate by her inviting style, comprised of an alluring cheery vibrato tinged to perfection with sonorous deeper tones. This cocktail of mirth, with a just a dash of melancholy, enraptured the audience, since the flavor is all too familiar during the season, yet not too often acknowledged. The blend is wise and real, and what better up beat lament to launch the show than "The Ladies Who Lunch." Traditional carols and songs - as well as new holiday sprigs - ensued, several generously delegated to her guest vocalists. Maestro Woody Regan provided a comfortable cushion with his nimble piano accompaniments.

There were also chestnuts not immediately identified with this time of year, but which were so sensibly appropriate. "Lost In The Stars," which has become a Rucker hallmark, falls softly into this category, yet another tune furthering the celestial quality of the evening.

In addition to sending off one and all into a blaze of good will, Bronwyn conjured her own personal miracle on 46th street. She managed to summon the spirit of Broadway Joe Franklin, who in halcyon days would personally introduce his beloved chanteuse. His beaming elfin grin shone down upon her and her friends, never to fade away.

Bravo, Bronwyn!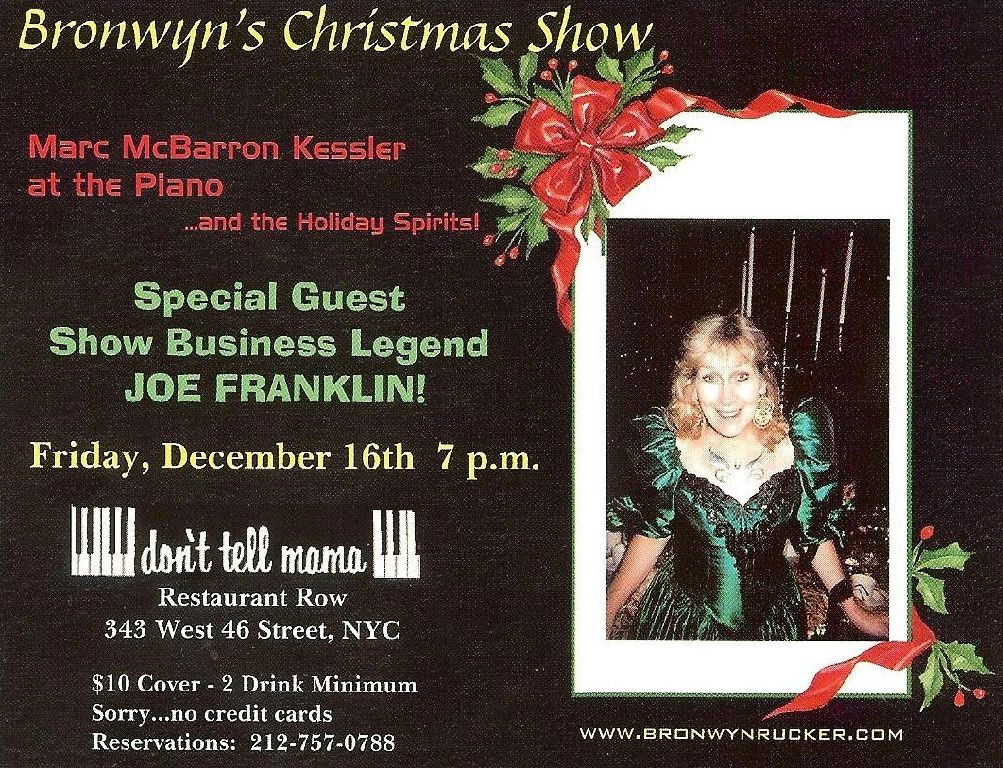 * * * * *



HAVE YOURSELF A MERRY BRONWYN CHRISTMAS!
Santa Claus Would Love Brooklyn Singer's Show!


By Harold Egeln
Brooklyn Daily Eagle
NEW YORK — Joyfully and sweetly singing Christmas song favorites and some under-the-reindeer-radar holiday songs that sound simply wonderful, Bronwyn Rucker would knock the socks off of Santa Claus's elves at the North Pole cabaret, as much as she wooed a rapt audience here on the Sunday before Christmas Day.
Who better than Bronwyn Rucker, the cabaret recording star from Brooklyn, to make this season the happiest along with TV and radio talk-show pioneer Joe Franklin and warming her audience's hearts with joy in her annual Bronwyn's Christmas Show.
In singing a wistful "Try to Remember" from "The Fantasticks!" and then fading so tenderly into a snug Christmas song, she took center stage with a stocking full of highly talented musicians, serving as holiday spirits accompanying her at Don't Tell Mama in the city's theater district.
In the coziness of the Don't Tell Mama cabaret's back room, Bronwyn made songs such as "We Need a Little Christmas," "Have Yourself a Merry Little Christmas" and "Silver Bells" ring with the fondness of Christmases past, the glory of Christmas present and the hope of Christmases future.
She was introduced by Joe Franklin of "Memory Lane" fame, who was in turn introduced by his producer Rick Russo, also well known for his work at the Brooklyn Chamber of Commerce. "Joe invented and pioneered the TV talk show, doing it for 43 years, and doing it on radio for over half a century, and now on Bloomberg Radio," Russo said. Franklin, author of 28 books, holds the Guinness record for the most interviews on TV and radio, noted Russo.


Rick Russo and Joe Franklin

Joe Franklin
One of the entertainers performing onstage was Martin McQuade, a singer from Bay Ridge who is a consultant to the Bing Crosby Foundation and writer of the liner notes for a series of a collection of Crosby songs. His heartwarming rendition of Crosby's "White Christmas" evoked memories of Crosby's TV Christmas shows.

Martin McQuade


Other holiday spirits adding to the merriment were Bronwyn's renowned pianist and longtime collaborator Woody Regan; the "Happy Jester," Ritt Henn, on bass; singer J. Michael Reeds, pianist Mischa Kischkum, and Ron Michaels, also the leader of the Harry James Tribute Band, on trumpet.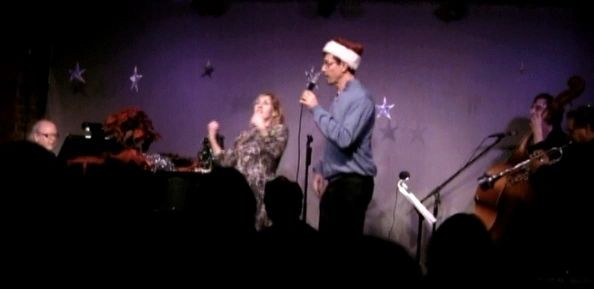 Woody, Bronwyn, J. Michael, Ritt, and Ron


Adding to the evening's pleasure was songwriter and pianist Brian Gari. He sang a song he wrote at age 15 entitled "On Christmas Day" that has become a staple of Bronwyn's holiday shows.



Brian Gari and Bronwyn singing "On Christmas Day"


Mischa Kischkum and Bronwyn singing "Mem'ries to Make"
The delightful treat of "All Together Now — Elves and Shelves of Sleeping Toys," had the audience singing the chorus.
The sing-alongs to Christmas favorites led by Bronwyn were another feature of the show. The gifted singer, painter, playwright and actor, with three albums under her belt, is a true showstopper.
Non-holiday hits such as "Lost in the Stars" and "Catch a Falling Star" also fit into Bronwyn's magic bag of Christmas treats.
Where else but with Bronwyn and Franklin can Memory Lane meet Holiday Lane, giving those at this very special Christmas Show a moment to cherish for this holiday season?



* * * * * * * * * *




From the 2009 Christmas Classic...
Above: Bronwyn with A. Michael Tilford at the piano, Bastard Amber, and Saadi Zain on bass
Below: Bronwyn and Phil Levy sing a duet,
Send in the Clowns
(images from Brian Gari video)


Review of 2008 Show...